NIC, Jharkhand awarded by Hon'ble Chief Minister , Jharkhand for project on 'Ease of Doing Business'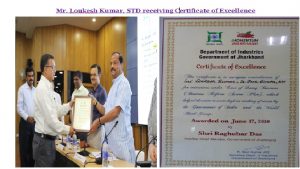 State governments have been making efforts to promote industry setup in their state. They have changed their existing system to promote industry. "Ease of doing business" is an index published by the World Bank. It is an aggregate figure that includes different parameters which define the ease of doing business in a country. NIC was entrusted to provide single window for Land Records Information, Urban Area Holding Information, Holding Tax Information and Revenue Court Information. Integration of all the above databases and single window was provided by NIC. Single window system has facilitated Land clearance, Forest clearance, Revenue and Urban Tax clearance, pollution clearance (from Jharkhand State Pollution Clearance Board), Excise licenses and Drug licenses. Jharkhand is among top four states of India which has the best index for "Ease of doing Business".
On 17th June'2019, Hon'ble Chief Minister of Jharkhand ShriRaghubar Das facilitated all the officers and departments. NIC, Jharkhand has also been facilitated and awarded on this occasion. Mr. Sanjay Garg, SIO, Jharkhand, Mr. Loukesh Kumar, STD and Mr. Deepak Kumar, STD were present on the occasion. Hon'ble Chief Minister praised the effort made by NIC, Jharkhand.