SIO Jharkhand to NIC Hazaribagh District Centre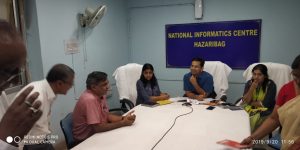 On 20th September 2019,Shri Sanjay Garg, SIO Jharkhand visited NIC Hazaribagh District Centre and VinobaBhave University, Hazaribagh to review the ongoing projects of the district. He was accompanied by ShriS.K.Mohakul, Senior Technical Director andShri Sunil Kumar Verma, Technical Director, Jharkhand.
Shri.S.K.Deo, STD and DIO, Hazaribagh briefed them about different projects under implementation in the district. SIO was briefed about the current status of projects like PMKAY, MMKAY and new innovations done by the NIC district unit.Demonstration of "Hazaribagh District Administration App" was given to them. This app has been recently launched by Hon'ble Chief Minister of Jharkhand. The software developed to facilitate the scheduling of meeting with the District Collector for the local people was also demonstrated. Shri.Ritu Raj, ADIO, Hazaribagh helped in demonstration.
SIO and NIC Team had a meeting with Dr. BhuvneshPratap Singh,IAS, District Collector, Ms. VijayaJadhav, IAS, DDC and Ms. MeghaBharadwaj, IAS, SDM,Hazaribagh to discuss any issue that can be resolved by the NIC State Unit. The District Collector suggested for a grievance portal for the MMKAY project which will facilitate the farmers to put up any complaint related to the payment.
NIC team inspected the new infrastructure that has been allotted to NIC Hazaribagh in new Collectoratebuilding.
ThenSIO held a meeting with the Prof. Dr. Ramesh Sharan, ViceChancellor of VinobaBhave University, Hazaribagh and senior officials of the university. The university has been provided with NKN connectivity and campus LAN has been done. Progress of the NKN project was discussed and SIO took note of the progress and key challenges.